Sewing Projects
I haven't written a word of fiction since I finished Whacked in the Stacks. I haven't even outlined Rainie Day Mystery #2 in detail.
To be frank, I've been battling a crisis of confidence in my writing. The query process is long and psychologically draining. As the form rejections pile up, I start to wonder if I was naïve to write a low-concept, character-driven cozy mystery. I wonder if I should have written something "sexy" instead. Rainie Day doesn't live in a lighthouse-turned-bookstore off the coast of Scotland. She doesn't explore ancient ruins for a living while doing aerial acrobatics for spare change. Evil wizards won't destroy the planet if Rainie fails to find the killer before he strikes again.
But then I remember all of the Betty Crocker baking mix novels out there. I'm sure the authors of those books didn't set out to write bland, formulaic paperbacks. They set out to write great books, but then they caved to real or imagined commercial pressures.
Every year, thousands of writers turn out sexy high-concept manuscripts that never see the light of a literary agent's bedside reading lamp. Even if I were to stick my heroine in a Cirque du Soleil costume and set her loose in the evil-wizard-infested ruins of an ancient city underneath a Scottish lighthouse-turned-bookstore, I might never sell the book anyway. I might as well write the books I want to write and let the chips fall where they may.
Finally I decided, yesterday, that I'm going to forge ahead with Rainie Day #2...as soon as I can pull myself away from my shiny new sewing machine.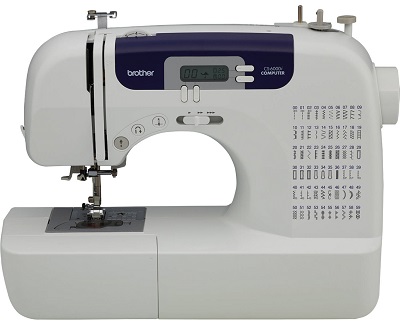 While doing battle with my confidence, I found an outlet for my creative energy in sewing my spring wardrobe. Tired of hunting through the stores for hours for attractive clothing that fits me, only to return home empty handed, I dusted off the Kenmore sewing machine I bought in college and started stitching away. Then a crucial part of the machine broke, and the local repair shop said they would charge $125 to service it. Sears doesn't carry Kenmore sewing machines anymore, and the part that broke was discontinued years ago.
So I wheedled Sweetie into paying a teensy weensy bit more to get this super-cool computerized wonder instead. It has an automatic needle threader! And it adjusts stitch widths and lengths on its own! And the stitches it makes are so pretty and even...I was appalled when comparing them to the valiant efforts of my poor old Kenmore.
Below are my creations so far, modeled by Missy Mannequin.
Missy is my birthday present from Sweetie: an adjustable dressform configured to my basic measurements. She's not a perfect replica of me, but she's pretty close. Our biggest differences are in the neck (mine is a bit smaller), the arms (mine are much smaller), and the slope of the shoulders (mine isn't as steep).
My hips also don't flare out in a bell shape like Missy's, but that's not her fault. She was designed to have a more balanced waist-to-hip ratio than I do. I'm Chinese on the top and German/Irish on the bottom. When configuring Missy, we had to keep the top and waist at the near-minimum, then crank out the hips to the near-maximum. So some things hang a little oddly on Missy, but they look fine on me.
First I made a purple dress out of Sew Classic Knit Ponte from Jo-Ann Fabrics. I hadn't sewn with knits before, so I chose this thick polyester fabric with a two-way stretch because it would be easy to sew. I made my own pattern, because that's how I roll. (And because I've used patterns in the past, and they always required major adjustments. I might as well draw the pattern from my measurements to begin with!)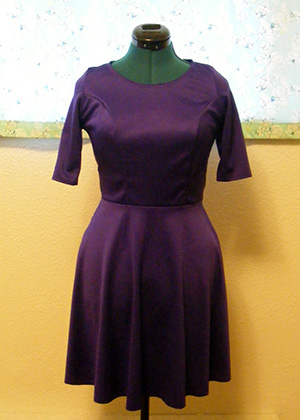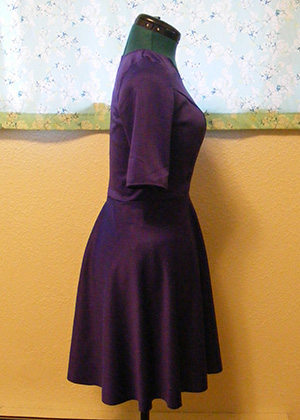 Emboldened by my success, I then tackled a long blue dress made from the lightweight Jet Set Knit from Jo-Ann's. I like the flowy feel of this fabric, but it is very thin. Even with a lining, every bump and wrinkle shows through. I have to be very careful about what I wear underneath, lest I end up looking like Missy here.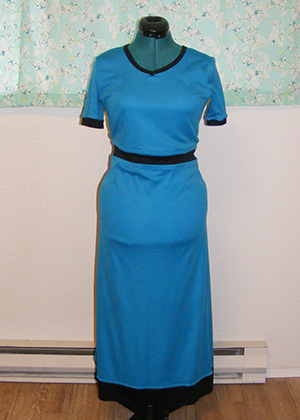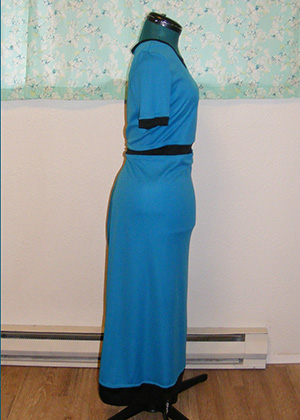 This is my sewing buddy, the panda. He chews on his plastic bamboo while watching me repeatedly unpick seams and try again. I bought him at Uwajimaya when I went to Portland for a workshop last week, along with a month's worth of frozen udon and miso. There isn't a single Asian market in the entirety of Central Oregon, so I have to stock up when I can.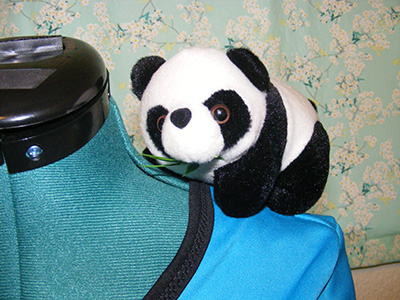 Finally, here's an A-line skirt made from a fabric by Art Gallery, "Yinghua" from the Pandalicious collection. The pattern is the same one I used for the curtains in the background, though those are made from a cotton in the "rainwater" color and the skirt is a jersey knit in "cherrylight."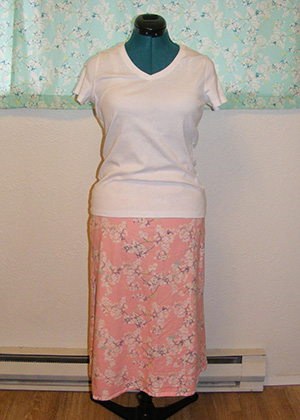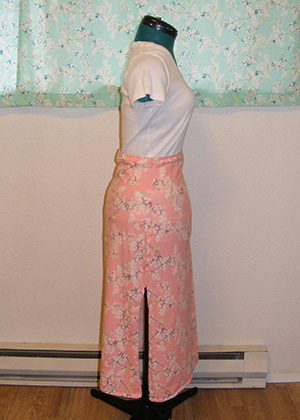 I took a few photos of myself wearing the skirt. I'm glad my garments always look better on me than they do on Missy, instead of the other way around!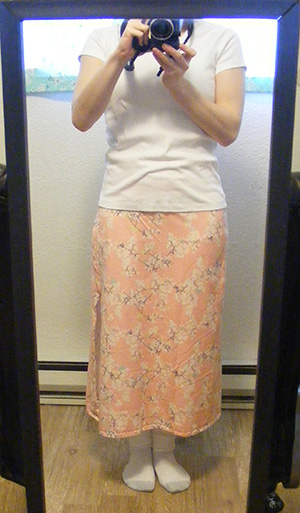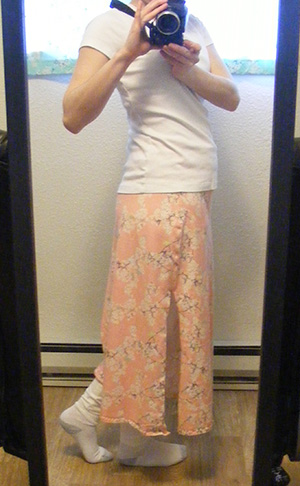 Under the skirt I'm wearing a pair of white leggings made from a Robert Kaufman Laguna cotton jersey. It's made of 95% cotton and 5% lycra spandex, which makes it very soft, very stretchy, and very prone to snagging. I disliked the fabric at first because it kept getting sucked down into my machine. Then I tried sewing through a strip of tissue paper on top, and now I'm snag-free.
I can't wait to sew more leggings, pajamas, and exercise pants for myself. The ones in stores are all too long or too short, too big at the waist, and too small in the thighs or calves. Since I'm short, one pair of pants requires a little less than one yard of fabric. The cotton jerseys cost only $5-$10 per yard...so making them myself will be cheaper, too.
Not pictured is a failed project: my first attempt at making a qipao, a.k.a. a cheongsam. Qipaos are close-fitting dresses typically made from stiff satin brocade, with mandarin collars and frog closures. This is what it was supposed to look like, but with plainer fabric so I could wear it to work.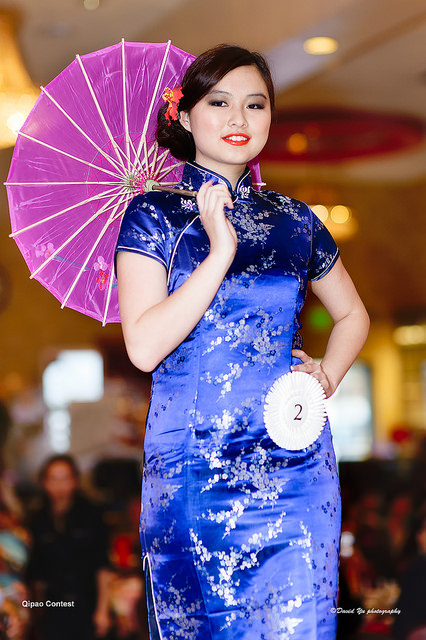 The stiffness of the fabric and the body-hugging nature of the style make qipaos very difficult to sew. I tried anyway, using a cheap satin from Jo-Ann's. The result was close, but "close" doesn't cut it for qipaos.
I'm going to try again with a stretch satin. It might be "cheating," but that's fine with me. The stretchy fabric will be more forgiving to minor imperfections in fit, and it will be more comfortable to wear.
Comments