Surprising Similarities between Sewing and Writing
Life is crazy, and I'm not sure it will ever be sane again. Sweetie is zipping between Oregon and Indiana to settle his father's estate, I'm hyperventilating over manuscript requests from literary agents, and the two of us are having big talks about marriage and houses.
Only a few months ago, all of these things were far away concerns for our future "adult" selves to worry about. Our parents were supposed to live for two or three more decades. We didn't expect to buy a home until our mid-thirties, at least. And now that my vague sparkly dreams of publishing are slowly solidifying into a conceivable reality, I'm terrified.
I feel like the minute I turned twenty-nine, the fates checked the calendar and said, "Whoops! You're about ten years overdue for your coming-of-age trials. Here, do all of these now and become a grown-up."
And so this blog post has been sitting in my drafts since March 26, ten days before our nicely ordered world collapsed like a Jenga tower. Over the past month I could write "academic" posts about storytelling and literary criticism, but I couldn't bring myself to post about sewing pretty dresses while Sweetie was ordering death certificates. Now the worst of it is behind us, Sweetie is home (albeit temporarily), and it's a good day to talk about pretty dresses.
The Dresses
I finally did it—I sewed a qipao! After the satin disaster, I tried again with a mildly stretchy linen/rayon blend for the fashion fabric, with poly/cotton shirting for the lining. I tied the frog closures myself from some black nylon cord with the immeasurable aid of YouTube videos.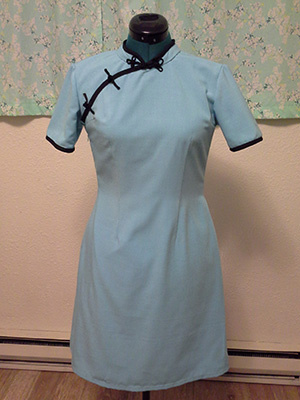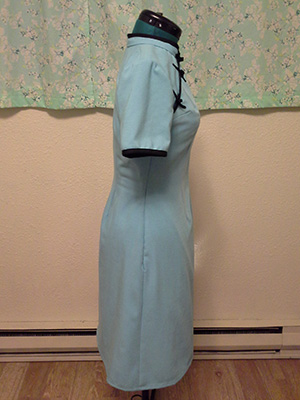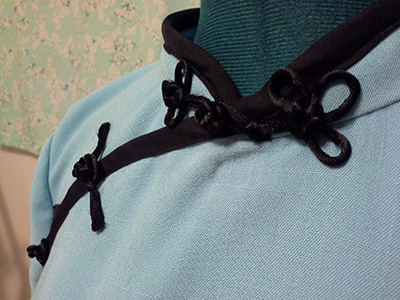 Then over Easter weekend I made myself a faux-wrap dress out of a colorful Liverpool double knit fabric. The fabric is non-reorderable, which makes me sad—someone needs to set up an affordable print-on-demand service for fabrics.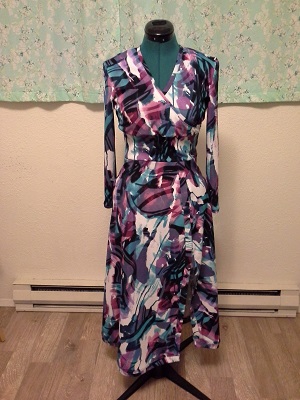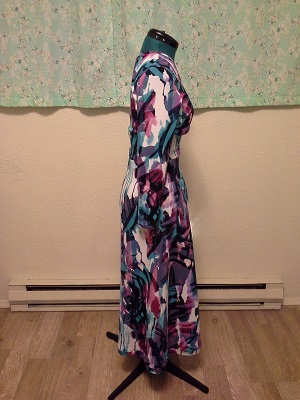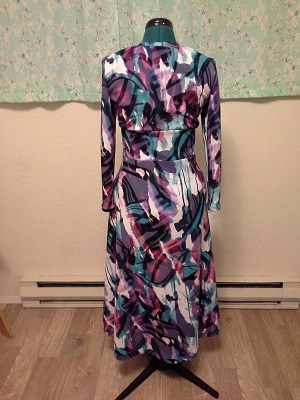 Sewing and Writing
Sewing and writing seem like very different creative endeavors, but as I learned more about dressmaking I found many surprising similarities.
1. The actual sewing/writing is not the hard part.
When people who don't sew think about sewing, they think about, well, sewing. The physical labor of stitching cloth together. It's so-called "women's work," a mindless chore or frivolous hobby that supposedly requires little thought or skill.
But the physical labor of sewing is only the last and easiest step of the process. The real work is in all the things that must be done before a needle goes anywhere near the fabric. Measuring bodies, calculating pattern pieces, planning out garment construction. Studying the properties of different fabrics, thinking in three dimensions, considering how people move and bend. Tracing, cutting, pinning, basting, fitting (every step of the way!), and making adjustments.
Similarly, when people think about writing, they think about writing. They imagine writing a book is a simple matter of sitting down to type 80,000 words. Even writers believe it. We tell each other that the secret to writing great novels is "butt glue." Just glue your butt to your office chair, turn off your brain, and hammer out 1,000 words a day, and brilliant stories will magically craft themselves.
In reality, hammering out the words is the fun and easy part of writing. Just like in sewing, the hardest and most important part of writing is thinking. Developing characters, laying out plots, weaving in settings. Studying the tropes of genres, considering how people read, designing scenes to make readers feel wonderful and terrible things. Outlining, drafting, and revising, revising, revising.
Impatient people might be tempted to skip all that because it's too bothersome. They say outlining "sucks the joy out of writing," and revising "dilutes the artist's natural voice," and other such excuses that all boil down to, "I just want to skip to the fun part."
This is like an impatient new sewist cutting into her fabric with no pattern and no plan, because she doesn't want to fuss with measuring tape and "math makes her head hurt." Well, she might get the project done, but she can't expect it to be couture.
2. When you first start sewing/writing, you'll discover many things you didn't know you didn't know.
Did you know that sleeves were invented by Satan himself? I didn't until I attempted to draft one.
I'd never given a thought to sleeves until I wanted to add them to the first dress I designed. Vaguely, I must have thought they were merely tubes of fabric. They are not. They are these crazy things.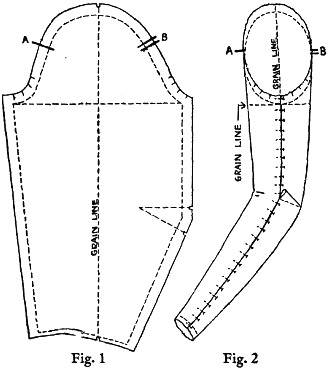 Over my lifetime, I've worn countless sleeves. I pride myself on having a reasonably good eye for fashion, and I can tell a pretty sleeve from an ugly one. But until I drafted and sewed a sleeve myself, I had no idea how complicated they are.
Most people start writing because they're avid readers. They love books, and they're discerning critics. They can tell a good story from a bad one.
But there are many things about books that a person will discover only by writing them. Thinking like a creator is very different from thinking like a critic. Here's a famous quote by Ira Glass, host and producer of the long-running radio program This American Life.
"All of us who do creative work, we get into it because we have good taste. But there is this gap. For the first couple years you make stuff, it's just not that good. It's trying to be good, it has potential, but it's not....It is only by going through a volume of work that you will close that gap, and your work will be as good as your ambitions."
3. No project turns out perfectly on the first try.
That deceptively simple-looking cheongsam at the top of this post required three attempts. A full six yards of fabric went into the trash (or my shoe box of crafting scraps).
Here are the notes I kept during the process. The notes under each version detail what went wrong and how to fix it on the next try.
* Muslin *
Skirt hugs pelvis -- Shorten skirt waist darts by 2" all around
Skirt too bell shaped -- Make skirt waist darts straight, not concave; reduce curve of cut at hips; reduce hip ease by 1/2" on each side
Tapered skirt not flattering -- Cut A-line instead
Sleeves too tight -- Add 1" additional ease and bring out armholes 1/4" on each side

* Satin *
Bodice stands away from body -- Add shoulder dart 3" long, 1" wide to outer bodice piece
Collar too short -- Lengthen by 2", extend inner bodice piece by 1"
Sleeves still too tight -- Widen and shorten caps

* Linen *
Waist too snug for non-stretch fabric -- add 3/8" of ease on each side (fixed this time by letting out back darts by 1/2" each, front darts by 1/4" each)
I probably spend twice as much of my sewing time on alterations as I do on actual garment construction, because every attempt is an imperfect one. Even dressmakers with decades of experience need to sew up muslins and do multiple fittings to get a garment just right. Likewise, even authors with dozens of books to their names will still need to revise, revise, revise.
And by "revise," I don't mean they make some small tweaks and call it good. They have to be willing to trash those six yards of fabric they'd worked on for three weeks and try again.
Over the next few months, I'll be rewriting about a third of Whacked in the Stacks. I'm moving events around to improve the pacing of the plot, cutting whole chapters of dead weight, and introducing new characters to make conflicts more interesting. Revision isn't something that can be done by halves. As Mary Kole says in her blog post "Big Revision," the word means "to see again," to see the story in a new light and make drastic changes, not "to shovel text like a kid pushing peas around his plate."