Writing in the Age of Entertainment Overload
Last weekend I devoured the first two books of M. C. Beaton's Hamish Macbeth mysteries. I knew I'd found a new favorite author to add to my collection when I read these paragraphs at the top of page two of Death of a Gossip (1985).
John Cartwright was small, thin, wiry, and nervous. He had sandy, wispy hair and rather prominent pale blue eyes. Heather had been one of his first pupils at the Lochdubh School of Casting: Salmon and Trout Fishing.

He had been seduced by the sight of her deft back cast and had only got around to discovering the other pleasures of her anatomy after they were married.
But while these books make me very happy as a reader, they also make me melancholy as a writer...because we can't write like this anymore.
M. C. Beaton breaks every rule in the twenty-first-century publishing playbook. She head-hops. She "tells." She devotes more page time to character portraits, light romance, and comic hijinks than she does to the simplistic crimes. The Hamish Macbeth mysteries are books about life in charming small-town Scotland set against the backdrop of a murder, not the other way around.
When Beaton wrote Death of a Gossip in 1985, St. Martin's snapped it up and turned it into a beloved series with thirty-four titles and a three-season BBC adaptation. If a hopeful unknown were to submit the same manuscript to agents and editors today, she would be universally rejected.
As I received feedback from agents for my manuscript of Whacked in the Stacks, I saw one verdict repeatedly: "It's too slow." Agents say the heroine is delightful, her rocky relationship with her sister is relatable and touching, and her flirtation with her childhood crush is adorable...but I need to change all that if I want to sell the book. The heroine must discover the dead body ASAP. She must rush to solve the murder against a ticking clock. I can't waste any pages on comic scenes or relationships that don't have anything to do with the mystery.
Whacked in the Stacks is zippy compared to the ambling 1985 Death of a Gossip. But now it's 2017, and anything short of a Sonic-the-Hedgehog pace won't sell anymore.
Publishing experts today warn that if a paragraph is boring, the reader might close the Kindle app and tap over to Instagram. If a chapter ending is too satisfactory, the reader might take a nap and forget about the book. They say the age of Tweets and binge-watching has made modern readers so impatient, so accustomed to high stakes and lightning-fast plots, that if you write one single scene of quiet introspection they'll immediately get bored and put the book down.
Is it true? I think no...and yes.
Have readers changed? No.
I don't think the Internet has fundamentally changed the way people read books or watch shows. People have always enjoyed stories full of twists and cliffhangers.
In the Greek epic poem The Odyssey (8th century B.C.) the hero sails from one narrow escape to another until he charges into a harrowing battle to reclaim his wife and palace at the end.
In Shakespeare's Hamlet (c. 1600), every act ends with a promise of titillating scenes to come. Act I ends with Hamlet setting off for revenge. Act II ends with Hamlet plotting a stage play to expose the king's crimes. Act III ends with Hamlet murdering Polonius in front of the queen, and Act IV ends with the queen's dramatic announcement of Ophelia's death.
The first volume of Jane Austen's Pride and Prejudice (1813) ends with the sentence, "To Pemberley, therefore, they were to go," which leaves readers squealing in anticipation of Elizabeth's inevitable reunion with Mr. Darcy.
People have also always enjoyed slower stories with poetic writing and great characters, and that hasn't changed either. Who do people cite as their favorite authors of all time? Jane Austen. Leo Tolstoy. Margaret Atwood. The Handmaid's Tale is so slow even I couldn't get through the first chapter.
Tastes haven't altered much in a couple of millennia. The Internet didn't suddenly change our definition of a good story in a couple of decades.
Instead, what the Internet really did change was the entertainment economy.
Has publishing changed? Yes.
When I was growing up in the dark ages of the 1990s, adults flew into a tizzy over the horrifying news that kids were spending two to three whole hours a day in front of TV and computer screens. Then the Internet came along, and now spending most of your time staring a screen is the norm.
Today people walk around with thousands of movies and books in a tiny computer in their pockets. They can subscribe to Netflix for roughly one hour's entry-level wage per month. They can access hundreds of eBooks for free through their public libraries.
In the face of this entertainment overload, turning a profit has become much, much tougher for book publishers.
In the 1980s, when St. Martin's snapped up Hamish Macbeth, publishers could afford to offer readers many kinds of stories: slow and thoughtful stories, cute and fluffy stories, dark and thrilling stories. But now agents and editors have to be more selective about what they acquire, and the books they put out have to appeal to the widest audience possible. In the publishing world today, there is only one "good" story: the unputdownable story. Every book must be a hard-hitting Sonic-the-Hedgehog page-turner. There is no room for cuteness anymore.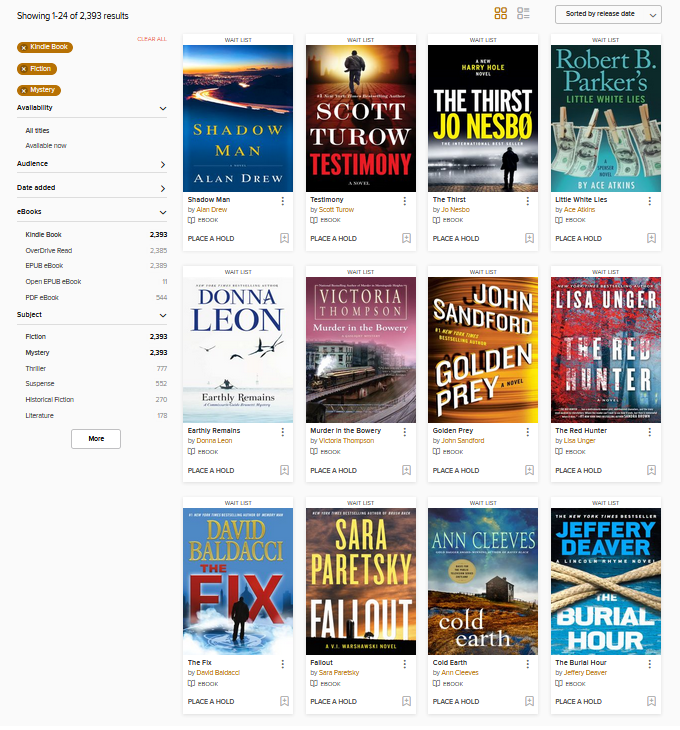 What does this mean for me?
Whacked in the Stacks is like the song "Have a Nice Day" by the Japanese singer Nishino Kana. It's charming, uplifting, and a little bittersweet. The sound is bubbly, and the lyrics are about a woman cheering herself on when work is exhausting and her dating life is a mess: "Do your best, me! Do your best today too...You're great, me! Don't lose, be patient, don't lose heart. Just like this, even today, I can live with all my might."
It's a lovely song to bop along to in the car, but it's not "danceable," the musical equivalant of "unputdownable." It doesn't make your pulse pound, and it doesn't stick inside your head for hours afterwards.
On the other hand my next project, the wuxia trilogy, is like "Last Romeo" by the Korean band Infinite. To epic rock-orchestral music, the boys sing about an all-consuming love: "Shine on my path; whether I want it or not, the decision has been made. I will put everything at risk. I will protect you no matter what hardships come. I can't see anything else but you."
This song is the essence of "high-concept." It gives you the breathless feeling agents and editors today want to experience when they read a manuscript. They want heartwrenching dramas that sweep them off their feet. They want the sort of books that make readers Tweet words like "obsessed" and "addicted"—the sort of books that have the potential to be international smash hits.
If you were to take "Have a Nice Day," trim out the slow intro, and speed the whole thing up, you wouldn't turn it into "Last Romeo." You'd only ruin the song by making it sound ridiculous.
Similarly, if I were to take out everything in WITS that is not the mystery, put in more twists and villainous plots, and turn the heroine into a fearless investigator who suspects everyone in sight of murder most foul, the novel wouldn't suddenly become The Girl on the Train. It would only become a faster and less affecting version of the cute fluff it is now.
I like fluff. Fluff should be fluffy. I don't want to douse my fluff in kerosene and light it on fire just to make things more exciting. Because publishing WITS would require me to do just that, I've decided to file the manuscript away for now. I'm going to take a short breather and then start work on my wuxia trilogy, which will be a blazing fire by nature.