Unscrupulous Self-Pubbers
My day started off on a depressing note when I opened my email to (a) a credit card statement and (b) a letter of rejection for a visiting librarian position I had applied to in May. The letter was an odd one in that it didn't say that another candidate had better qualifications. Instead, it said my materials were received after the search and screening committee had already made their selection of interviewees—which I would be more inclined to believe if they had sent such a notice when I applied three weeks ago. Anyway, I soldiered on and paid my credit card, and in doing so was obliged to glance over my bank account....
Don't worry; I'm not in any danger of ending up on the streets. It's just disheartening to watch the number continuously shrinking instead of growing, even by a little bit. I haven't made enough from Amazon or Barnes 'n Noble sales yet to even receive a check for my piddling royalties. I've sold three short stories this week, which is nice—but 99¢ doesn't get you very far in the twenty-first century. Right now I'm hanging most of my hopes on two things: Kobo's launch of their self-publishing platform, which will give me a third venue to make piddling royalties, and the Kindle free giveaway of Bubbles Pop scheduled for Sunday and Monday that will hopefully give it a bump in visibility. Unfortunately, Amazon restructured their algorithms for popularity rankings last month, so the weight of freebie bumps has been reduced to some 10% of what it used to be. Their promotion programs are no longer a guarantee that a title will stay in the limelight for longer than forty-eight hours.
I would grumble about this, but honestly, from the sort of games I've seen unscrupulous folks play, it was probably a necessary defensive measure. Self-publishers (and some rogue traditional authors) trying to put one over on the buying public ruin it for the rest of us. And believe you me, the eBook explosion encouraged a lot of snakes to crawl out of their dens. I've seen or heard of people:
Organizing groups in which everyone buys a member's book on a certain day en masse to artificially push it up the rankings.
Making multiple Amazon or Goodreads accounts to leave glowing reviews of their own works and sabotage competitors with one-stars, and possibly convincing friends and family to do the same. In library school we read of a cautionary case in which a renowned history professor did this to get an edge over his colleagues, and when he was caught, tried to pawn responsibility off on his wife.
Putting Wikipedia articles, old public domain content, etc. into eBook format to sell to unsuspecting customers.
Titling those lumps of free articles The Works of [Famous Author Here] to mislead people into believing they're actual stories by [Famous Author], instead of useless reviews and copy/pasted biographies.
Naming their trashy S&M stories oh-so-coincidentally The Hunger Game or The Girl with the Dragon Tattoos. The first time I ran into one of these, it had popped up in a search for "The Mistress." The cover looked like a bad screenshot of a porn video starring an office girl on all fours, with her rear to the camera and her skirt flipped up to show, um, everything. Now I can't find it anymore. Methinks Amazon took it down quietly.
Publishing dashed-off "parodies" called The Hunger Pains or The Dragon with the Girl Tattoo just so they'll pop up on popular searches and get the authors' names out there. Note that this is a favorite game of established publishing houses as well. Example: Bored of the Rings taking easy pot-shots at the word "fag" and renaming characters after sex toys and salty snacks. Sophomoric humor was apparently a roaring novelty in the '60s.
But a scam I saw yesterday took the cake. When I searched Amazon for "Marnell," just to see if my stuff would pop up at the top, I saw a record for a book titled The Marnell Name in History. It was supposedly published by the staff at a popular, somewhat reputable genealogy site. The Kindle eBook was going for $6.39, and the paperback for $19.95. Seems all above board, right? But since the author was listed as "Ancestry.com," Sweetie and I both heard our rip-off radars blaring....
Witness the results of a general search for "name in history" in books: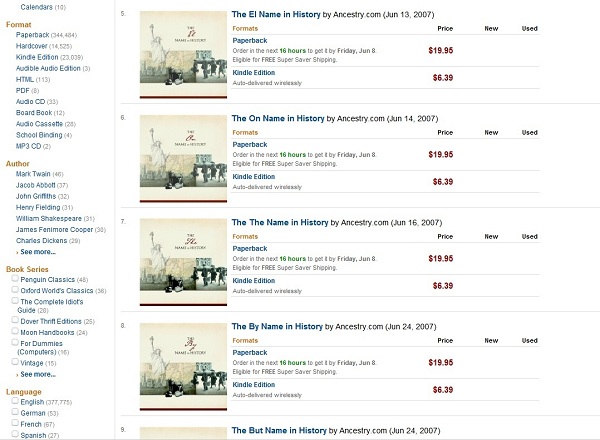 Click to Enlarge
My personal favorite: The The Name in History. Never before have I seen a fully computer-generated series of books. They seem to have automated everything from the ripping of data from their own site to the creation of POD paperbacks and Amazon records. Needless to say, the reviews from customers are less-than-complimentary. A sampling of review titles: "This Is Pure Junk," "Shame on Amazon," "Boilerplate Rip-Off" and "Historical Huckster." The books are apparently filled with generic facts and tables pulled from free public records. People with uncommon names may find the pages full of zeroes or "No data." A hobbyist with a few hours on his hands could put together something more informative from old letters and a quick search of the Ellis Island database. Heck, Sweetie's grandmother could probably dictate one off the top of her head.
I stand corrected. One person loves the series:

Obvious plant is obvious.
With famous companies pulling off scams like this, it's no wonder people don't trust unknown self-publishers like me. It's also no wonder that many pine for the days in which the head honchos in New York shut out the majority of wannabes from the marketplace. Sure, they slammed the door on a lot of potentially great and innovative authors so they could make money from established bestsellers and tried-and-true formulas, but at least unwary consumers didn't have machine-made fluff and bare buttocks staring them in the face. E-publishing is like the old Wild West right now: a fertile, open land of opportunity welcoming the disenfranchised and the desperate, but also swarming with snake oil salesmen and masked bandits.